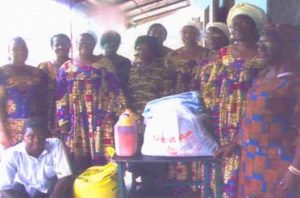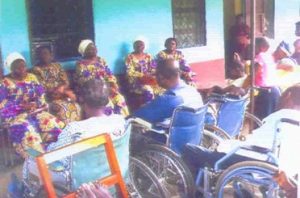 DATE: 4th May, 2008( To Donate food stuff, Clothing and Tioleteries)
Objectives: Still in her desire to support the less fortunate in society, Divas visit to arch Mutengene was aimed at providing material, moral and financial support to the physically impaired kids at the centre.
Report on Activity:
Arch Mutengene is a Rehabilitation Centre located in Cameroon, in the South West Region and precisely in the town of Mutengene. It is owned and managed by the Roman Catholic Church in Cameroon. It is as a result of DIVAS, continuous quest in assisting the underprivileged with basic health care and basic education that the group decided to give a helping hand to the Handicaps in Arch Mutengene.
DIVAS arrived at 2.30.pm and the ceremony began with a word of prayer by a member and later a speech from the attendant. She explained some of the worries and difficulties of the Centre, which included the need for more tricycles, which are a measure means of movement for them, food stuff and other basic necessities. This was followed by a speech from the president of DIVAS. She responded that the plea of the centre tie in with DIVAS' objectives, therefore the group promised to help the Centre in their own little way. Songs of praise by both parties followed and then the presentation of gifts, like rice, palm oil, toilet tissue, washing soap and clothes were offered. The group took snapshots with members of the centre and ended the day with prayers. The handicaps and the staff were so pleased and said they look forward to another opportunity like this. The two parties exchanged welfare greetings and parted ways.
Outcome:  The DIVAS ladies left the centre satisfied because they noticed that the attendants were more lively and happier  by the end of their visit.
Budget: A sum of 200.000F was dispensed to purchase the items donated.